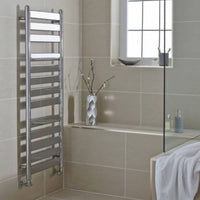 Kartell Newark Design Radiator 500mm x 950mm - Chrome
This Stunning Type Newark Design Central Heated Radiator is finished in Chrome and is available in multiple different Sizes. The radiator offers a stunning design with impeccable quality. 
Product Details |
- Square Design
- 5Year Guarantee 
- Finished in White
- Includes retaining stays, tapping bushes and air vent.  
- Available in multiple Sizes. 
Product Dimensions|
500mm x 950mm