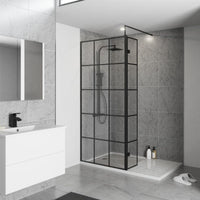 Kartell Krittal Wet Room Screen Inc. Support Bar - Black Frame | Multiple Sizes Available
The Kartell Krittal Wet Room Screen is a contemporary modern design, with stunning black grid effect that will make your bathroom stand out from the rest. Complete with a black support bar, black frame and a high quality 8mm toughened safety glass offering good strength and durability.

This wet room screen can be used as a single panel or select another multiple size for an end panel within the optional drop down box, to create a full walk in shower enclosure. This wet room shower screen is suitable to be installed on a shower tray or wet room flooring. Return Krittal 300mm end panel can be purchased separately.
Product Details |
- Wet Room Shower Screen
- Supplied with Black Wall Support Bar
- 8mm Depth Safety Glass
- black Grid Design
- Square Cut Edge
- Single Panel - Select Another Size for an End Panel (within this listing)
- Adjustable In Various mm (please refer to individual 'Product Dimensions, Code & Adjustability' Below) 

- Modern Style

- Easy Clean
- Lifetime Guarantee
- Material: Safety Glass
- Colour: Clear Glass, Black support bar & frame
- Available in multiple sizes

Please Note | An optional '300mm Krittal return panel' available separately. 

Product Dimensions, Code & Adjustability |

700mm Width x 2000mm Height Krittal Wet Room Screen Inc. Support Bar 8mm Depth Glass - KR1001W - Adjustable from 680mm up to 700mm

800mm Width x 2000mm Height Krittal Wet Room Screen Inc. Support Bar 8mm Depth Glass - KR1003W - Adjustable from 780mm up to 800mm

900mm Width x 2000mm Height Krittal Wet Room Screen Inc. Support Bar 8mm Depth Glass - KR1004W - Adjustable from 880mm up to 900mm

1000mm Width x 2000mm Height Krittal Wet Room Screen Inc. Support Bar 8mm Depth Glass - KR1005W - Adjustable from 980mm up to 1000mm

1200mm Width x 2000mm Height Krittal Wet Room Screen Inc. Support Bar 8mm Depth Glass - KR1007W - Adjustable from 1180mm up to 1200mm