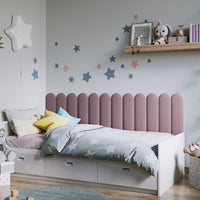 Product Information
SKU

VU6034849
Vilo Upholstered Panel - Powder Pink - Oval Shape
The Vilo Upholstered Panel in Powder Pink, a stunning addition to your home decor that effortlessly combines elegance with modern aesthetics. This oval-shaped panel is designed to elevate your living space with its exquisite craftsmanship and stylish appeal.
Crafted with meticulous attention to detail, the Vilo Upholstered Panel features a premium powder pink upholstery that exudes sophistication and grace. The soft and luxurious fabric adds a touch of comfort, making it an inviting piece for relaxation and leisure.
The panel's oval shape adds a unique twist to its design, adding a subtle yet captivating element to any room. Whether it's displayed in your living room, bedroom, or even a hallway, it becomes an eye-catching focal point that effortlessly draws attention.
Not only does the Vilo Upholstered Panel enhance the visual aesthetics of your space, but it also serves a functional purpose. It can be used as a decorative backdrop for your bed, creating a dreamy atmosphere in your bedroom. Alternatively, it can be mounted on a bare wall to create an instant statement piece that complements your existing decor.
Measuring 150mm x 600mm, this panel is the perfect size to fit in various spaces without overwhelming the room. Its versatile design ensures it can effortlessly adapt to different interior styles, whether it be a contemporary, minimalist, or even a bohemian-inspired setting.
The Vilo Upholstered Panel is built to last, constructed from high-quality materials to ensure durability and longevity. With its sturdy frame and premium upholstery, this panel is designed to withstand the test of time, allowing you to enjoy its beauty for years to come.

Please Note - This type of upholstered paneling can not be installed in interiors with increased humidity, such as a bathroom. They are purely for decorative purposes.


View Vox Vilo Upholstered Panel Product Catalogue

View Vox Vilo Upholstered Panel Shape Guide

View Vox Vilo Upholstered Panel Installation Instructions

Individual Panel Size
Width: 150mm
Height: 600mm

Panel Pack Size
The price shown is for a pack of 1.


ALL PRICES INCLUDE VAT
Vilo Upholstered Panel - Oval - Powder Pink
Immediate 3D Effect on wall
Great for Feature Walls
Quick And Easy Installation
Lightweight for easy Installation
Easy to Maintain for Cleanliness

Durable, Hardwearing, Solid Upholstered Boards
Panel Dimensions - 150mm x 600mm
Product Code VU6034849