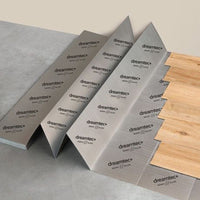 Product Information
SKU

BE1FDREAMTEC00000
ALL PRICES INCLUDE VAT.
1

0m

2

 total surface area coverage

Dreamtec® Underlay
The floor of silence - reduces noise in any room it is installed - the unique foamed top layer absorbs the walking sound, making it up to 50% more silent than other LVT floors
db Rating: 10db
Fire Rating: Bfl-s1

Lightweight

Sustains high temperatures & compatible with installation of under floor heating

Temperature Resistance: Suitable max 27°C (80°F) / electrical floor-heating systems max 60 W / 

m

2
Quick and easy installation with the dreamclick® system making it DIY friendly
Residential Warranty - Lifetime


Commercial Warranty - 10 Years

Class 23 Residential heavy - intensive, increase use-entrance areas, kitchens and living areas

Class 33 Commercial heavy - intensive, increased use - open - plan offices, stores, multi - purpose halls

Underlay Pack Size
The price shown is for underlay that will cover 10m2 total surface area.

View Berry Alloc® Installation Guide Here >
View Berry Alloc® Maintenance Guide Here >
View Berry Alloc® Under Floor Heating Guide Here >
ALL PRICES INCLUDE VAT.