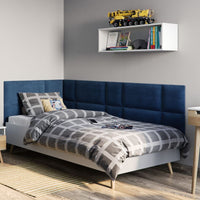 Product Information
SKU

VU6034868
Vilo Upholstered Panel - Navy Blue - Regular 3 Shape
The Vox Vilo Upholstered Panel in Navy Blue exudes sophistication and creates a captivating focal point in your interior design. The deep, rich navy blue colour brings a sense of calm and serenity to your space, making it ideal for bedrooms, living rooms, or even office environments. Its timeless appeal ensures it seamlessly complements various decor styles, from modern to traditional.
Crafted with utmost precision, this panel guarantees durability and longevity. The high-quality upholstery material not only offers a luxurious feel but also ensures easy maintenance, making it suitable for everyday use. The Regular 3 size of 300mm x 300mm allows for flexible placement options, whether you prefer a standalone statement piece or a combination with other panels to create a personalised wall display.

Please Note - This type of upholstered paneling can not be installed in interiors with increased humidity, such as a bathroom. They are purely for decorative purposes.


View Vox Vilo Upholstered Panel Product Catalogue

View Vox Vilo Upholstered Panel Shape Guide

View Vox Vilo Upholstered Panel Installation Instructions

Individual Panel Size
Width: 300mm
Height: 300mm

Panel Pack Size
The price shown is for a pack of 1.


ALL PRICES INCLUDE VAT
Vilo Upholstered Panel - Regular 3 - Navy Blue
Immediate 3D Effect on wall
Great for Feature Walls
Quick And Easy Installation
Lightweight for easy Installation
Easy to Maintain for Cleanliness

Durable, Hardwearing, Solid Upholstered Boards
Panel Dimensions - 300mm x 300mm
Product Code VU6034868