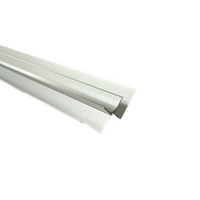 Product Information
SKU

INTS7
This Satin aluminium internal trim fits into the corner of a wall and joins two panels together where each panel meets the corner, this trim is best used when walls are uneven on the corner or at a 90° angle.
Don't know which trims or depth to select? Check out our help page on 'How to choose wall panel trims'...

VIEW NOW


ALL PRICES INCLUDE VAT
Use this trim where your two panels meet.
7mm & 10mm size options denote the thickness of the panels they fit
Choose size to suit the thickness of your panels
Satin Aluminium Internal Corner

Panels Slot Into Trim To Provide A Neat Finish

Approx 10mm Face Of Trim Visible When In Situ

2.4m Long

Material Aluminium

Available In 7mm & 10mm

Select Size You Require

Product Code 7mm INTS7, 10mm ITNS
Trim Dimension
7mm & 10mm 2.4m Long

Trim Pack Size
The price shown is for a pack of 1 that will cover 2.4m of surface length (depending upon trim depth chosen)

Easy Fit  
 Watertight  
  Quick Drying  
 10 Year Guarantee