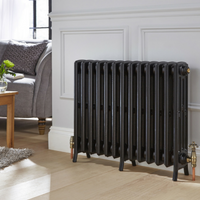 Kartell Legacy 6/48 Central Heated Column Radiator
This Stunning Cast Iron Legacy Central Heated Column Radiator is finished in a primed black and is available in multiple different colours. The radiator offers a stunning designs with impeccable quality. With the Ral colour scheme you can customize this radiator just how you like it. 
Product Details |
- 10 Year Guarantee 
- Finished in Primer (RAL7002) 
- Available in Ral Colours
- Includes retaining stays, tapping bushes and air vent.  
- Available in multiple Sizes (17,21 Sections)