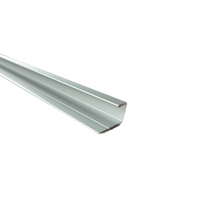 Product Information
SKU

ENDUS7
Satin Silver Aluminium End Cap Square profile wall panel trim for 10mm depth shower panels.
We supply this trim, as shown, in Satin Silver aluminium - Use this trim to provide a classy finish to your shower panel installation.

Don't know which trims to select for your shower panels? Check out our help page on 'How to choose wall panel trims'...


ALL PRICES INCLUDE VAT
Satin Silver Aluminium End Cap Square Trim

Available as 7mm & 10mm Trim

2.4m Long

Material Aluminium

Easy to cut to required length

Product Code 7mm ENDUS7 | 10mm ENDUS