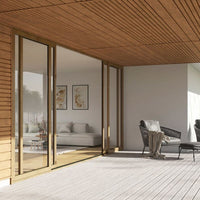 Product Information
SKU

VFM3027786
Winchester Oak - Vox Fronto Slat Wall Exterior Panels
Fronto wall panels are an exterior outdoor slat wall panel, an innovative solution for the facade and ceilings. Thanks to the modern shape of the profile and the specially designed joints, a three-dimensional panel with many possible applications. With Fronto's wide range of options & solutions, you can create a unique visual statement code for the exterior of your home.

The stunning Winchester Vox Fronto Slat Wall Exterior Panels, are designed to transform your outdoor spaces with a touch of timeless elegance. These panels feature a distinctive Winchester finish, bringing the charm of aged wood to your exterior walls and creating a captivating atmosphere. Crafted with meticulous attention to detail, the Winchester Vox Fronto Slat Wall Exterior Panels showcase the intricate textures and rich tones of aged wood, giving your outdoor areas a rustic yet sophisticated look. The realistic Winchester finish adds depth and character, making these panels a focal point that enhances the overall aesthetics of your exterior design.
Installing these panels is a breeze with their innovative slat wall design. The interlocking system ensures a seamless and seamless look when attached, providing an effortless installation process. Whether you're revitalising your home's façade, upgrading your commercial property, or adding a striking accent wall, these panels offer versatility and convenience to bring your design vision to life. Durability is key when it comes to outdoor applications, and the Winchester Vox Fronto Slat Wall Exterior Panels excel in this aspect. Constructed with high-quality materials, these panels are weather-resistant, fade-resistant, and resistant to cracking and warping. This ensures that your investment maintains its beauty and integrity for years to come, requiring minimal maintenance and upkeep.
The versatility of these panels allows for a range of creative possibilities. Use them to add texture and depth to your outdoor living spaces, create a welcoming ambiance for your hospitality venue, or elevate the exterior design of your retail space. The Winchester Vox Fronto Slat Wall Exterior Panels provide endless opportunities to showcase your unique style and create an unforgettable outdoor experience.

Installation - 
The supporting structure can be made of both wooden battens and metal profiles mounted directly to the walls.
Wooden battens should be made of good quality wood,
without knots, with a moisture content of 15-17%,
properly impregnated with dimensions of 30 x 22 mm.

For metal construction, we use as standard galvanised
profiles with UW/CW 75 cross-section, width 50,4 lm. *

Provide adequate ventilation from the bottom (approx. 150 mm from the ground) and the top of the wall (approx. 20 mm).

Battens are mounted at a distance of max. 40 cm, counting from the centre of the battens.
Maintenance -
Panels and moldings can be cleaned from time to time with a household detergent solution at a temperature not exceeding 40°C. Do not use solvents and similar aggressive and caustic liquids. Rinse the surface with clean water after washing.

Applications - 
Ceiling, Balcony, Terrace, Exterior Walls

Individual Panel Size
Width : 250 mm OR equivalent to 25 cm (face of panel width)
Width : 288 mm OR equivalent to 28.8 cm (full panel width with bolt holes)
Height : 2950 mm OR equivalent to 295 cm
Thickness : 12 mm

Panel Pack Size
The price shown is for a pack of 1.


View - Vox Fronto Product Catalogue

View - Vox Fronto Technical Data Sheet
ALL PRICES INCLUDE VAT
Vox Fronto Winchester Oak Slat Wall Exterior Panel
Immediate 3D Effect on wall - panel is textured to replicate the grain of wood
Quick And Easy Installation
Lightweight for Easy Installation

80% Recyclable
Easy to Maintain - Wipe clean surface

Durable & Hardwearing - Withstands storms & hurricanes
Panel Size - 2950mm x 25mm x 12mm
Product Code

VFM3027786