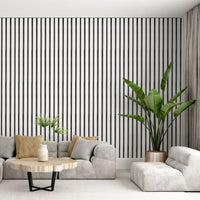 White Acoustic Slat Wall Panel - Sulcado
Note: For Vertical Fitment Only
ENTER YOUR WALL HEIGHT (mm)
ENTER THE TOTAL WIDTH OF THE WALL (mm)
Product Information
Width
600mm
Length
2400 mm
Depth
21mm
Colour
White
Material
PDF Wooden Slats with Wood Effect Hot Stamp Print
Finish
Wood
SKU

6002400-WH
White Acoustic Slat Wall Panelling - 3D Textured Panels
Get ready to transform your plain and boring walls into a jaw-dropping masterpiece with our revolutionary white slat wall panels! Bring your interior design game to the next level with the instant 3D texture that these panels bring, making your walls pop like never before.
Experience the unmatched durable construction, and effortless cleaning of our Sulcado slat wall panelling, perfect for those high-traffic areas like the hallway, work areas or the kitchen. These wood slat panels not only enhance the aesthetic appeal of your space but also offer practical benefits such as soundproofing and eliminating echoes in larger rooms.
The installation process is a breeze, allowing you to have your dream walls up in no time! Simply mount them onto your desired wall using adhesive, screws, or pins and easily cut to your specifications using a sharp saw or jigsaw. Make a statement with our white slat wall panels and turn your space into a designer's paradise! With their easy installation, durability, and incredible style, our wall panels are a must-have for any modern home. Don't wait - start creating your dream space today!

These slat panels are constructed with MDF wooden slats with a wood effect hot stamp print, affixed onto a backing made of recycled felt with sound-absorbing properties.

Please Note - These panels are NOT waterproof, we would not advise installation in areas with increased humidity such as bathroom areas. These felt backing slat wall panels should not have contact with direct water.

Individual Panel Size
Width : 600mm
Height : 2400 mm
Overall Thickness : 21mm (Foam backing: 10mm, Slat strips 11mm) 

Panel Pack Size
The price shown is for a pack of 1.

Installation Guide >


ALL PRICES INCLUDE VAT
Sulcado White Oak Acoustics Slat Wood Panel
Immediate 3D Texture on wall
Quick & Easy Installation
Improves Sound Proofing
Easy Installation

100% Recyclable
Easy to Maintain Cleanliness

D

urable, Hardwearing, Solid Slat Boards on a sound absorbing recycled Felt Backing

Panel 2400mm x 600mm x 21mm 
Product Code - 6002400-WH