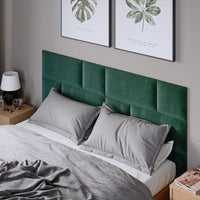 Product Information
SKU

VU6034841
Vilo Upholstered Panel - Bottle Green - Regular 1 Shape
The Vilo Upholstered Panel comes in a captivating Bottle Green colour and elegant Regular 1 shape. This panel is designed to elevate your interior decor with its stylish and sophisticated presence. Crafted with high-quality materials and attention to detail, the Vilo Upholstered Panel in Bottle Green adds a touch of modern elegance to any room. Its versatile shape and rich colour make it a versatile choice for creating an inviting and visually appealing ambiance. Upgrade your space with the Vilo Upholstered Panel and indulge in its timeless beauty.

Please Note - This type of upholstered paneling can not be installed in interiors with increased humidity, such as a bathroom. They are purely for decorative purposes.


View Vox Vilo Upholstered Panel Product Catalogue

View Vox Vilo Upholstered Panel Shape Guide

View Vox Vilo Upholstered Panel Installation Instructions

Individual Panel Size
Width: 300mm
Height: 600mm

Panel Pack Size
The price shown is for a pack of 1.


ALL PRICES INCLUDE VAT
Vilo Upholstered Panel - Regular 1 - Bottle Green
Immediate 3D Effect on wall
Great for Feature Walls
Quick And Easy Installation
Lightweight for easy Installation
Easy to Maintain for Cleanliness

Durable, Hardwearing, Solid Upholstered Boards
Panel Dimensions - 300mm x 600mm
Product Code VU6034841