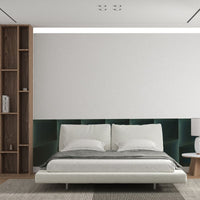 Product Information
SKU

VU6034862
Vilo Upholstered Panel - Bottle Green - Geo Shape
This Vox Vilo Upholstered Panel comes in a captivating Bottle Green colour, featuring a striking Geo shape. This panel is designed to enhance your interior decor, adding a touch of contemporary elegance to any room.
Measuring 300mm x 350mm, this panel offers versatile placement options, allowing you to create stunning accent walls or add a unique focal point to smaller spaces. Its compact size makes it an ideal choice for various applications.
Crafted with meticulous attention to detail, the Vox Vilo Upholstered Panel features high-quality upholstery in a rich Bottle Green shade. The luxurious fabric not only enhances the visual appeal but also provides a soft and comfortable feel. The padded surface creates an inviting and cozy atmosphere, making it perfect for relaxation and unwinding.
The Geo shape of the panel adds a modern and artistic element to your decor. Its unique design becomes a captivating centrepiece that sparks conversation and adds a touch of creativity to your space. Whether you're decorating a living room, bedroom, or office, this panel effortlessly elevates the ambiance and creates a visually stunning atmosphere.

Please Note - This type of upholstered paneling can not be installed in interiors with increased humidity, such as a bathroom. They are purely for decorative purposes.


View Vox Vilo Upholstered Panel Product Catalogue

View Vox Vilo Upholstered Panel Shape Guide

View Vox Vilo Upholstered Panel Installation Instructions

Individual Panel Size
Width: 300mm
Height: 350mm

Panel Pack Size
The price shown is for a pack of 1.


ALL PRICES INCLUDE VAT
Vilo Upholstered Panel - Geo Shaped- Bottle Green
Immediate 3D Effect on wall
Great for Feature Walls
Quick And Easy Installation
Lightweight for easy Installation
Easy to Maintain for Cleanliness

Durable, Hardwearing, Solid Upholstered Boards
Panel Dimensions - 300mm x 350mm
Product Code VU6034862