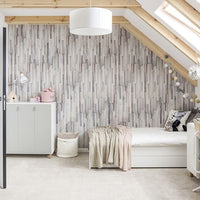 Vox Vilo Motivo Fun wood | 4 Pack
ENTER YOUR WALL HEIGHT (mm)
ENTER THE TOTAL WIDTH OF THE WALL (mm)
Product Information
Width
250mm
Length
2650 mm
Depth
8mm
Colour
Fun Wood
Material
PVC
Finish
Waterproof
SKU

VW3020965
Vilo Motivo Fun Wood PVC Bathroom Cladding
This Vilo Motivo range of panelling comes in packs of 4, each pack creates its unique design and continues on should you wish to add more to cover a larger area.
The new Vilo range from Vox has been extremely popular and one of the most popular styles within this range is the Fun Wood PVC wall panels. Each of the Fun Wood wall panels are 2650mm (26.5 cm) in length, 250mm (25cm) in width and 8mm in depth. At The Panel Company we sell the Vox Vilo Fun Wood panels in packs of 4, each pack will cover a total surface area of 2.65 sq/m.
The Vox Vilo range can be used for a wide variety of different applications. Many of our customers have used them to create a beautiful feature wall, whilst others have used them as a solution to cover a full room. The Vilo Fun Wood style from Vox can be used in the bedroom, as a feature wall, kitchen, bathroom, shower room, toilet and many other rooms in the home or in a commercial setting.
This style from Vox is a beige prominent colour with numerous light grey pastel tones mixed into it which has a wood effect on it. The Vox Vilo Fun Wood wall panels can be used both vertically and horizontally to create a different style and effect. These wall panels are very easy to install and offer a hygienic solution that is easy to clean.
Individual Panel Size
Width : 250 mm
Height : 2650 mm
Thickness : 8 mm

Panel Pack Size
The price shown is for a pack of 4 that will cover 2.6 m2 total surface area.

ALL PRICES INCLUDE VAT
Quick And Easy Installation
No Grouting Required
Easy To Keep Clean
100% Waterproof
Panel 2650mm x 250mm x 8mm - 4 Pack
Product Code QVOX03