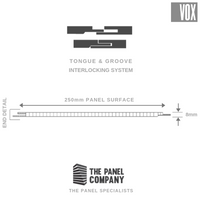 Product Information
Width
250mm
Length
2650mm
Depth
8mm
Material
PVC
Finish
Waterproof
SKU

VT3020948
Vox Motivo - Designer PVC Bathroom Cladding
Introducing Vox, one of the biggest European panel designers. Vox's exceptional range of stylish PVC panels are relatively new to the UK - offering Panel Company customers an expert finish and professional look with minimal effort involved.
From tile-effect PVC panels, to panels that mimic a popular 'wooden look', the Vox Motivo collection of panels are all built to the highest standard, offering stunning, high-quality finishes in a range of on-trend styles and colourways. Whether you choose to clad an entire room as a high-quality renovation project, or you're simply looking for a statement PVC panel to act as a statement wall in your home, Vox Motivo designer cladding offers endless interior opportunities.
Each 100% waterproof and easy to install, choosing PVC panels over traditional decor solutions is an extremely hygienic option. As PVC panels completely eliminate the risk of mould and are easy to wipe clean - with no grouting required at all. The simple tongue-and-groove locking system leads to a virtually effortless installation, creating a lasting, impressive look with minimal effort involved.
Vox Motivo PVC waterproof panel details:
Each panel measures 2650mm length x 250mm width
Individual panel size - width: 250mm x height 2650 mm x thickness 8mm
Pack Size
Please note, price shown is for a pack of four panels that will cover a total surface area of 2.7m2

ALL PRICES INCLUDE VAT