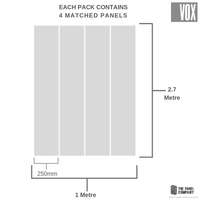 Vox Modern Graphite Large Tile | 4 Pack
ENTER YOUR WALL HEIGHT (mm)
ENTER THE TOTAL WIDTH OF THE WALL (mm)
Product Information
Width
250mm
Length
2650mm
Depth
8mm
Colour
Graphite
Material
PVC
Finish
Waterproof
SKU

VT3021010
Vox Modern Graphite Large Tile PVC Wall Panels
From the Vox collection of decorative panels, characterised by durability, resistance to moisture and it's easy to clean.
The panels can be used to clad an entire room or of course can be selectively displayed on a feature wall for a different effect. These 100% waterproof panels are also easy to keep clean and with no grouting required, they are also extremely hygienic. A quick installation is a clear advantage.
The simple finishing system leads to quick and easy installation – a fantastic alternative to ceramic tiles, wallpapers and paints.
Each panel measures 2650mm length x 250mm width.
Our video shows you how easy it is to install our cladding products...
Individual Panel Size
Width : 250 mm
Height : 2650 mm
Thickness : 8 mm

Panel Pack Size
The price shown is for a pack of 4 that will cover 2.7 m2 total surface area.


ALL PRICES INCLUDE VAT
Quick And Easy Installation
No Grouting Required
Easy To Keep Clean
100% Waterproof
Panel 2650mm x 250mm x 8mm - 4 Pack
Product Code VT3021010