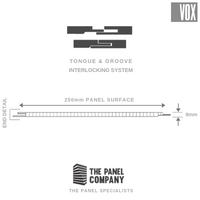 Vox Modern Decor Silver Small Tile | 4 Pack
ENTER YOUR WALL HEIGHT (mm)
ENTER THE TOTAL WIDTH OF THE WALL (mm)
Product Information
Width
250mm
Length
2650mm
Depth
8mm
Colour
Silver
Material
PVC
Finish
Waterproof
SKU

VT3021009
Vox Modern Decor Silver Small Tile PVC Wall Panels
Vox Modern Decor Silver Small Tile by the Panel Company would look great in your house, no matter which room you installed it in. This wall panel is great when combined with other tiles in the Vox ranger. You can see it here matched with the Anthracite option.
Waterproof and easy to clean, wall panels are a hygienic and long lasting alternative to tiles and grouting.
Individual Panel Size
Width : 250 mm
Height : 2650 mm
Thickness : 8 mm

Panel Pack Size
The price shown is for a pack of 4 that will cover 2.7 m2 total surface area.


ALL PRICES INCLUDE VAT
Quick And Easy Installation
No Grouting Required
Easy To Keep Clean
100% Waterproof
Panel 2650mm x 250mm x 8mm - 4 Pack
Product Code  VT3021009