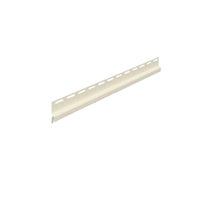 Product Information
SKU

VFT3008901
Vox Fronto Starter Trim for Fronto Slat Wall Exterior Panels

Installation - 
The supporting structure can be made of both wooden battens and metal profiles mounted directly to the walls.
Wooden battens should be made of good quality wood,
without knots, with a moisture content of 15-17%,
properly impregnated with dimensions of 30 x 22 mm.

For metal construction, we use as standard galvanised
profiles with UW/CW 75 cross-section, width 50,4 lm. *

Provide adequate ventilation from the bottom (approx. 150 mm from the ground) and the top of the wall (approx. 20 mm).

Battens are mounted at a distance of max. 40 cm, counting from the centre of the battens.
Maintenance -
Panels and moldings can be cleaned from time to time with a household detergent solution at a temperature not exceeding 40°C. Do not use solvents and similar aggressive and caustic liquids. Rinse the surface with clean water after washing.

Individual Trim Size
Length : 3050 mm OR equivalent to 305 cm

Trim Pack Size
The price shown is for a pack of 1 trim.


View - Vox Fronto Product Catalogue

View - Vox Fronto Technical Data Sheet
ALL PRICES INCLUDE VAT
Vox Fronto Starter Trim for Slat Wall Exterior Panels
Quick And Easy Installation
Lightweight for Easy Installation
Durable & Hardwearing - Withstands storms & hurricanes
Product Code 

VFT3008901