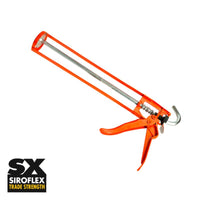 Product Information
SKU

GUNSG400
ALL PRICES INCLUDE VAT

A Sturdy skeleton gun with hexagonal rod, re-enforced ring and hook end.  This manual bead gun applicator is perfect for DIY and semi-professional users who need a reliable tool for their projects. It's designed with a strong, rigid metal frame and a curved rod end (ladder hook) for easy storage. Additionally, it features a built-in pressure relief device that stops material flow when the trigger is released, making it a safe and practical choice for any user.

This tool is specifically designed for use with 310ml and 400ml cartridges of low viscosity sealants and adhesives. It features a ratchet action that pushes the ram forward with each squeeze of the trigger, ensuring a consistent supply of material. Whether you're working on a DIY project or a professional job, this tool is a reliable choice for your sealant and adhesive needs.

Tool material epoxy coated steel, epoxy coated steel cradle
Barrel Length 267.8mm
Cartridges of 310 or 400ml
Product Code GUNSG400
Quantity
x1 Sealant Gun