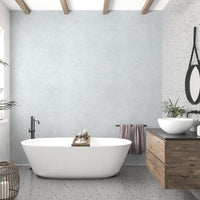 Large White Concrete 1.0m x 2.4m Shower Panel
ENTER YOUR WALL HEIGHT (mm)
ENTER THE TOTAL WIDTH OF THE WALL (mm)
Product Information
SKU

CS1000WCON
White Concrete Matt Shower Boards
Looking for a way to upgrade your bathroom without the hassle of tiling and grouting? Look no further than our Large White Concrete Shower Panel. Measuring 2.4 meters by 1 meter and boasting a thickness of 10mm, this panel provides the perfect canvas for your dream shower.
Not only is this shower panel practical, but it's also incredibly stylish. With a sleek and modern design, this panel will give your bathroom a fresh and contemporary look that is sure to impress. Plus, our panels are 100% grout-free, making them super easy to clean and maintain.
These shower panels are made from a PVC hard board with a hollow cavity, making them durable and long-lasting. And with their tongue and groove design, they're incredibly easy to install, with no special tools or expertise required. Plus, our panels can be complemented with a range of finishing trims, ensuring that you get the perfect look for your bathroom. Upgrade your bathroom with the Large White Concrete Matt Shower Panel today and enjoy the perfect blend of style and functionality!

Individual Panel Size
Width : 1000 mm
Height : 2400 mm
Thickness : 10 mm

Panel Pack Size
The price shown is for a pack of 1 that will cover 2.4m2 total surface area.


ALL PRICES INCLUDE VAT
White Concrete Shower Panelling
Matt Finish
Flush Fitting
Tongue And Groove
2400mm x 1000mm x 10mm
Can Be Used With Our 10mm Trim Range
Product Code CS1000WCON