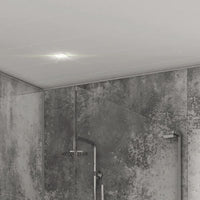 White Gloss 5mm
Note: For Vertical Fitment Only
ENTER YOUR WALL HEIGHT (mm)
ENTER THE TOTAL WIDTH OF THE WALL (mm)
Product Information
Width
250mm
Length
2600mm
Depth
5mm
Colour
White
Material
PVC
Finish
Gloss Finish
SKU

RR04
White Gloss PVC Ceiling Panels
Looking to upgrade your existing interiors with ceiling panels? Or are you simply on the market for white gloss PVC panels that can add the perfect finishing touches to a room? Each of our 5mm thick white gloss ceiling panels provide endless styling opportunities, offering The Panel Company customers plenty of renovation opportunities with minimal effort involved.
An excellent choice for both wet and dry areas, our gloss white bathroom cladding can be installed into any room of the home. Particularly good for use as kitchen ceiling panels or gloss wall panels in utility and bathroom spaces, these PVC ceiling panels bring instant brightness to any space. Quick and efficient to install thanks to our clever locking tongue-and-groove system, each ceiling panel fits seamlessly together using coordinating joint trims. Each of the gloss PVC boards slot together to create a seamless effect, which can be implemented on a ceiling, as a statement wall, or a full renovation project. Regardless of how big or small your interior renovation is, each of our exceptional PVC ceiling panels will fit together and create an effortless, high-quality look. With easy cleaning, effortless installation and low maintenance, our gloss white bathroom cladding is the ideal solution for both wetrooms and living spaces alike.
White Gloss PVC panel details:

White Gloss Panel Flush Fitting
2600mm x 250mm x 5mm
The price reflects a pack of 1 x panel, that will cover 0.65m2 in total.

ALL PRICES INCLUDE VAT