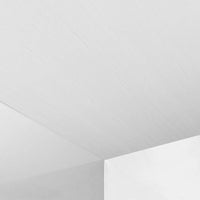 White Ash 5mm
Note: For Vertical Fitment Only
ENTER YOUR WALL HEIGHT (mm)
ENTER THE TOTAL WIDTH OF THE WALL (mm)
Product Information
Width
250mm
Length
2600 mm
Depth
5mm
Colour
Ash
Material
PVC
Finish
Waterproof
SKU

RR06
White Ash PVC Ceiling And Wall Cladding
Perfect for use in any interior space, these white wood effect PVC panels are incredibly versatile. Suitable for use as PVC ceiling panels or to create a natural wood-effect feature wall in a living room or kitchen, these white ash panels give you complete creative freedom.
A practical, as well as stylish choice, these white ash bathroom panels, are 100% waterproof, making them ideal for installation in kitchens, bathrooms, shower cubicles and wet rooms. Easy to install and clean thanks to the wipe-down, hygienic surface, these PVC ceiling panels make a great alternative to traditional tiling.
Individual Panel Size
Width : 250 mm
Height: 2600 mm
Thickness: 5 mm

Panel Pack Size
A large panel, which comes in a pack of 1, covers a total surface area of 0/65m2.


ALL PRICES INCLUDE VAT
The pattern is a white wood effect with an eggshell finish

Flush fitting

2600mm x 250mm x 5mm

Product Code RR06