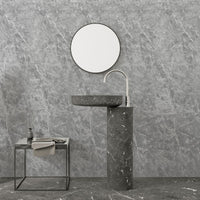 Premium Large Capri Light Grey Matt 1.0m x 2.4m Shower Panel
ENTER YOUR WALL HEIGHT (mm)
ENTER THE TOTAL WIDTH OF THE WALL (mm)
Product Information
SKU

CS1000CLGM
Premium Capri Light Grey Matt Shower Panel
This decorative and practical Premium Large Capri Light Grey Shower Panel gives you everything you need to make your dream bathroom, this panel has a matt smooth finish with low light reflectivity. Giving you the look of a marble slab this shower board will make your bathroom stand out from the rest.
The panel measures 2.4metres by 1 metre and is 10mm thick.
This panel gives a great marble effect, without the fuss of tiling and grouting!! A great alternative to bathroom tiles. 100% free of grout and as a result a really easy surface to keep clean. These shower boards are a hard board and have a hollow cavity.
These extra wide panels are tongue and groove, quickly fit together and can be complemented with a range of finishing trims to ensure a great look. Can be used with the 10mm trim range.
Individual Panel Size
Width : 1000 mm
Height : 2400 mm
Thickness : 10 mm

Panel Pack Size
The price shown is for a pack of 1 that will cover 2.4m2 total surface area.


ALL PRICES INCLUDE VAT
Capri Light Grey Matt Stone Marble Shower Panel
Matt Finish
Flush Fitting
Tongue And Groove
2400mm x 1000mm x 10mm
Can Be Used With Our 10mm Trim Range
Product Code CS1000CLGM