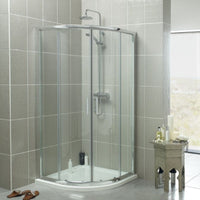 Kartell Koncept Quadrant Enclosure 6mm | Multiple Sizes Available
The Kartell Koncept Quadrant Shower Enclosure is a modern style that will give your bathroom a nice clean cut finish and a modern interior finish. Complete with a high quality 6mm toughened safety glass offering good strength and durability. Available in multiple sizes.

This quadrant shower enclosure screen features two sliding doors, with two pre-fitted door handles for ease of opening.
Product Details |
- Quadrant Shower Screen Enclosure / Double sliding doors
- Two Sliding Doors
- Dedicated chrome fitted handles for easy opening 
- 6mm Depth Safety Glass
- Chrome adjustable wall profiles included
- Adjustable In Various mm (please refer to individual 'Product Dimensions, Code & Adjustability' Below) 

- Modern Style

- Easy Clean
- Lifetime Guarantee
- Material: Safety Glass
- Colour: Clear Glass, Chrome Wall Profiles
- Available in multiple sizes

Product Dimensions, Code & Adjustability |

800mm Width x 1850mm Height Koncept Quadrant Enclosure 6mm Depth - 6KON800Q
 - 
Adjustable from 760mm - 780mm

900mm Width x 1850mm Height Koncept Quadrant Enclosure 6mm Depth - 6KON900Q - Adjustable from 860mm - 880mm