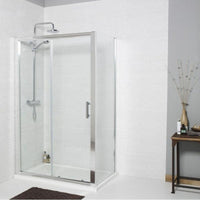 Kartell Koncept Frameless Side Panel 6mm | Multiple Sizes Available
The Koncept Frameless Side Panel is composed of 6mm glass, the perfect pairing to their frameless doors, helping to complete the enclosure. Kartell's Frameless Side Panel is available to suit either left or right hand configurations, meaning it's a great option to suit any bathroom layout.

This frameless side panel shower screen is designed for use alongside the Kartell Koncept collection of doors, that allows for the doors to be installed into the corner of a room opposed to recess set. 
Product Details |
- Single Frameless Side Panel
- 6mm Depth Safety Glass
- Allows the Koncept Door to be installed into a corner of a room
- Designed to be used/installed with the Kartell Koncept range of shower doors
- Suitable for left or right hand installation
- Square Cut Edge

- Modern Style

- Easy Clean
- Lifetime Guarantee
- Material: Safety Glass
- Colour: Clear Glass
- Available in multiple sizes

Please Note | Shower screen is designed for use alongside the Kartell Koncept collection of doors

Product Dimensions, Code & Adjustability |

700mm Width x 1850mm Height Koncept Frameless Side Panel 6mm Depth - KON700SP
760mm Width x 1850mm Height Koncept Frameless Side Panel 6mm Depth - KON760SP
800mm Width x 1850mm Height
Koncept Frameless Side Panel 6mm Depth - KON800SP

900mm Width x 1850mm Height Koncept Frameless Side Panel 6mm Depth - KON900SP