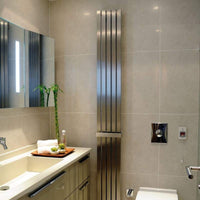 Kartell Idaho Central Heated Radiator
The Kartell Idaho Radiator is finished in a stunning stainless steel design, fitted vertically this radiator offers outstanding heat output. This unit is available in multiple sizes to find a size that suites your room. 
Product Details |
- Modern Flat Tube Design 
- Finished in Stainless Steel 
- Installed Vertically 
- 5 Year Manufacture Warranty.