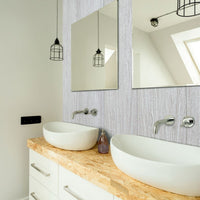 Decorwall Wood Grain Chalked Elegant Oak 8mm
Note: For Vertical Fitment Only
ENTER YOUR WALL HEIGHT (mm)
ENTER THE TOTAL WIDTH OF THE WALL (mm)
Product Information
Width
300mm
Length
2700mm
Depth
8mm
Colour
Chalk
Material
PVC
Finish
Waterproof
SKU

QMBV10
DECORWALL WOOD GRAIN CHALKED ELEGEANT OAK PVC BATHROOM PANELS
These wood effect bathroom wall cladding panels show quality and features all in its name. Wood Grain Chalked Elegant Oak.
All the detaling of an Oak panel, with the knots and lines, but in a bright chalk white able to lift a rooms brightness. this panel is proving to be a really big hit.These waterproof panels are ideal for bathrooms and shower rooms but can be used in any room of your home.
Suitable For Walls And Ceilings - These high quality cladding wall panels will bring a touch of real class to any room in which they are applied.
These panels are class 1 fire rated and 100% waterproof, making them an absolutely ideal choice for kitchens and bathrooms.
Individual Panel Size
Width : 300 mm
Height : 2700 mm
Thickness : 8 mm

Panel Pack Size
The price shown is for a pack of 1 that will cover 0.675 m2 total surface area.


ALL PRICES INCLUDE VAT
Chalked Wood Grain Effect
Flush Fitting