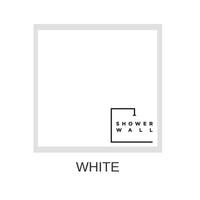 Product Information
SKU

SWCTCRWT
This ShowerWall continuous run trim for the compact tile panel range is to be used to mount panels side by side. Seal with ShowerWall sealant. In order to ensure a watertight finish, ShowerWall trims are required for the outer edges of the panels, as well as both internal and external corners.



 View ShowerWall Compact Tile Installation Guide

 View ShowerWall Compact Tile Data Sheet

IN ORDER TO ACTIVATE YOUR WARRANTY YOU MUST USE ShowerWall TRIMS AND ADHESIVES ON INSTALLATION WITH THIS PANEL.


Dimensions -
2450mm Length x 3mm Depth

Trim Pack Size -
The price shown is for a pack of 1 that will cover 2450mm of surface length

Product Details -

Trim designed to connect two ShowerWall Compact Tile Panels together

Panels slot into trim at right angles to provide a neat water tight finish

Available In Bright White, Black, Chrome & Satin

Material - Aluminium

Flush Fitting

Seal With ShowerWall Sealant

Select Size & Colour You Require
Trims are available in four colourway options -
White, Black, Chrome & Satin (select your colour variant option from the drop down box).

Please Note -
The colour swatch is for reference only, actual finishes may appear slightly different on the actual product.