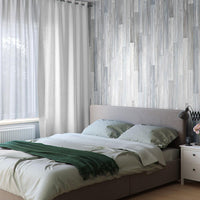 Product Information
Width
330 mm
Length
2650 mm
Depth
8mm
Colour
Modern Blue
Material
PVC
Finish
Matt Finish
SKU

VW3021028
Vox Vilo Motivo Modern Blue Plank PVC Bathroom, kitchen & Bedroom Wall Panels
The Vox Vilo Motivo Blue Plank wall panels are an extremely popular interior design choice around homeowners in Britain. Each pack includes 3 wall panels that are 2650mm (2.65m) in height X 330mm (33cm) in width. Each panel is manufactured to the highest standards and has a thickness of 8mm, allowing for easy quick installation.
This style of wall panel from the Vox Motivo range comes in a wood effect with a unique decorative pattern on it. Typically this style of wall panel can be used in kitchens, bathrooms, bedrooms, showrooms along with many other rooms in both domestic and commercial properties.
Like all of the Vox wall panel range the Blue Plank wall panels are 100% waterproof and can be easily cleaned by using a damp clean cloth. The high quality 3D printing technology makes the design on these panels very detailed and realistic, the the average eye they look like real wood.
Individual Panel Size
Width : 330 mm
Height : 2650 mm
Thickness : 8 mm

Panel Pack Size
The price shown is for a pack of 3 that will cover 2.6 m2 total surface area.

ALL PRICES INCLUDE VAT
Quick And Easy Installation
Matt Finish
Blue Plank Wood Effect Wall Panel
No Grouting Required
Easy To Keep Clean
100% Waterproof
Panel 2650mm x 330mm x 8mm - 3 Pack
Product Code VW3021028