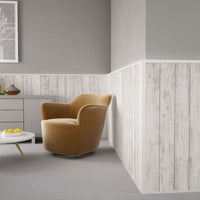 Vox Motivo Modern Grey Wood | 4 Pack
ENTER YOUR WALL HEIGHT (mm)
ENTER THE TOTAL WIDTH OF THE WALL (mm)
Product Information
Width
250 mm
Length
2650mm
Depth
8mm
Colour
Grey
Material
PVC
Finish
Waterproof
SKU

VW3020980
Vox Motivo Modern Grey Wood Effect Panel
This grey wood effect paneling allows you for a quick & easy installation to instantly inject style into your home interior. Install as a feature wall or in the bathroom or kitchen area, 100% waterproof these panels are made to least, complete with a 10 year guarantee. Easy to clean and maintain these panels offer a hygienic alternative to usual decorating methods such as tiles and wallpaper.

Individual Panel Size
Width : 250 mm
Height : 2650 mm
Thickness : 8 mm

Panel Pack Size
The price shown is for a pack of 4 that will cover 2.7 m2 total surface area.


ALL PRICES INCLUDE VAT
Quick And Easy Installation
No Grouting Required
Tongue and groove wall panels
Easy Clean
100% Waterproof
Panel 2650mm x 250mm x 8mm - 4 Pack
Product Code VW3020980