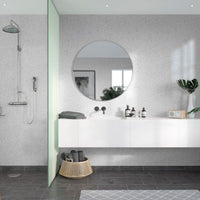 Large White Sparkle 1.0m x 2.4m Shower Panel
ENTER YOUR WALL HEIGHT (mm)
ENTER THE TOTAL WIDTH OF THE WALL (mm)
Product Information
SKU

CS1000WS
White Sparkle PVC Shower Panels
Create the bright, shimmering bathroom of your dreams with the sparkle PVC shower panels from The Panel Company. Embedded with multi-coloured sparkles that catch and reflect the light to create a bold shimmering effect, these large sparkle shower boards feature a clean white base panel. The look is completed by the sleek, gloss finish which brings a very contemporary feel to any bathroom space.

Give these bright, sparkle bathroom panels pride of place in your bath or shower room - no effort required. Easy to install due to the tongue and groove fittings, these sparkle white shower panels simply slick together and the whole installation can be done yourself! You can also bring a professional finish to your new bathroom look by finding a matching trim in our collection of 10mm trims.
Once installed, this sparkle bathroom cladding is completely waterproof and is incredibly easy to clean, simply wipe down with a damp cloth and your bathroom will return to its sparkling glory.
Individual Panel Size
Width : 1000 mm
Height : 2400 mm
Thickness : 10 mm

Panel Pack Size
The displayed price is for a pack of 1, which will cover a total surface area of 2.4m²


ALL PRICES INCLUDE VAT
White shower panels with a subtle granite effect pattern, offset by embeded metallic sparkles

Multi-coloured sparkle white shower panels which catch and reflect light

Sleek gloss finish for a modern look

Flush fitting

Tongue and groove fittings

Perfectly paired with our range of 10mm trims

Product code: CS1000WS